VITA PHYSIODENS® Anterior
Pour des prothèses tout en finesse présentant un jeu de formes stratifiées
Dents antérieures haut de gamme en composite MRP, translucides, pleines et tout en finesse.
La meilleure intégration aux dents résiduelles naturelles
grâce à des formes naturelles stratifiées
Jeu de lumière naturel
grâce à une texture de surface aux facettes variées
Bonne reproduction de la couleur des dents naturelles résiduelles
grâce à une grande fidélité chromatique au teintier et un grand choix de couleurs
Masquage fiable de structures secondaires ou tertiaires
grâce à un volume dentaire (basal) élevé
Excellente durabilité
grâce à une grande solidité et résistance à l'abrasion
Solution de prothèse idéale pour:
prothèses amovibles completes
prothèses amovibles partielles
prothèses amovibles transitoires
prothèses amovibles sur implant
travaux télescopiques et coniques
attachements et plaques métalliques
28 couleurs VITA SYSTEM 3D-MASTER® 0M1, 0M3, 1M1–5M3
15 couleurs VITA classical A1–D4® A1–D4 (sans B1)
21 formes de dents antérieures maxillaires (réparties en quatre groupes de formes)
8 formes de dents antérieures mandibulaires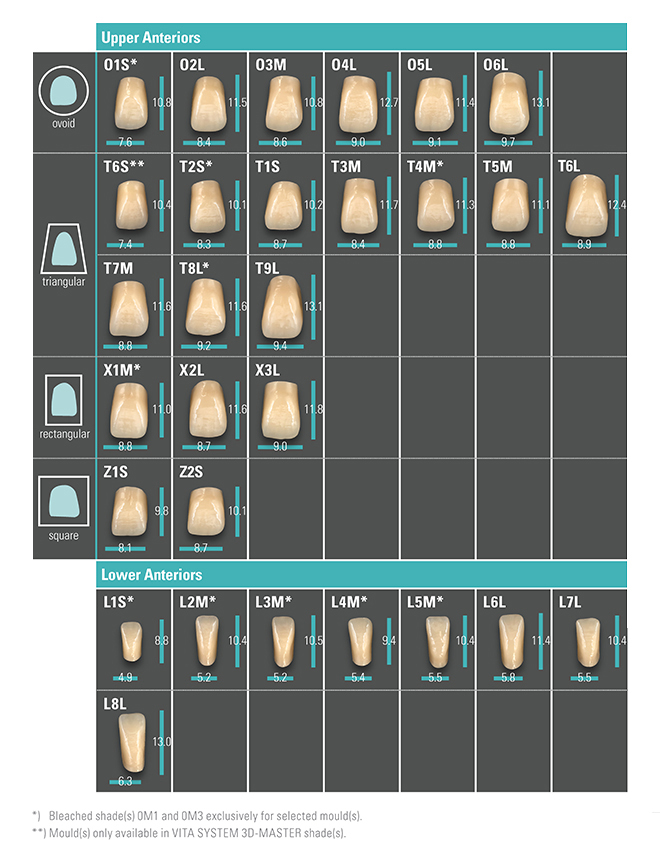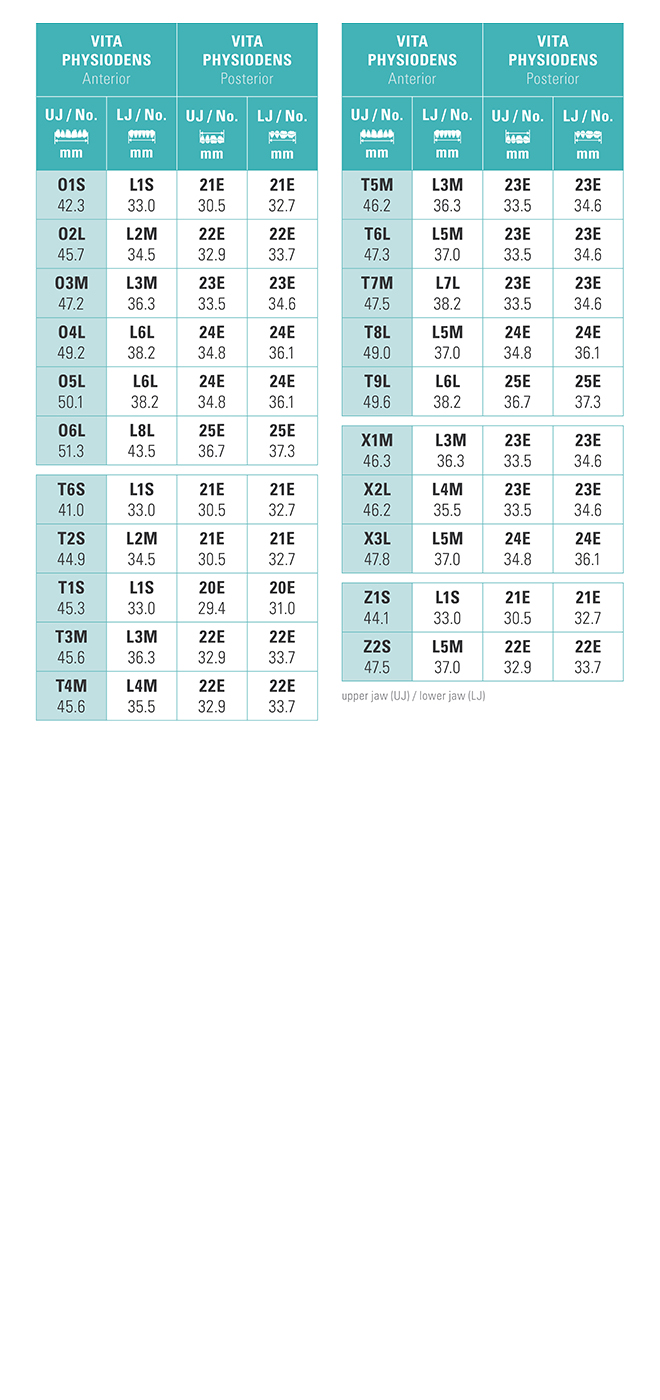 VITA PHYSIODENS® Anterior coffrets
VITA PHYSIODENS tooth storage
Anterior:
X-small*: 67 Sets / 402 Anteriors
Small*: 134 Sets / 804 Anteriors
Medium*: 268 Sets / 1608 Anteriors
Large*: 400 Sets / 2400 Anteriors
Available in VITA classical A1–D4® and VITA SYSTEM 3D-MASTER® shades.**
*) Note: You will receive the most frequently used moulds and shades with the packaged tooth storage. We are also happy to put together storage systems according to your individual specifications.
**) see available shades
Carte de formes VITA PHYSIODENS
Coffret métallique avec toutes les formes pour la sélection des dents
VITA PHYSIODENS Anterior et Posterior
Téléchargement convivial pour plusieurs documents
Téléchargez une archive ZIP contenant tous les fichiers sélectionnés.
Sélectionner simplement les fichiers puis cliquer ici.